BLACKOUT WINS RITA!
Well, my summer has been made! I'm thrilled to announce that BLACKOUT, my 2006 romantic suspense, was awarded the coveted RITA, the most prestigious award in the romance-publishing industry.
The RITA awards are presented annually by Romance Writers of America, the premier organization in the field of romance writing. Named after RWA's first president, Rita Clay Estrada, the award is a golden statue that symbolizes the highest achievement in romance writing.
The awards ceremony is the highlight of RWA's national conference, and this year no one was more surprised than me when my name was called. Stunned is an understatement! Up to 1,200 books in 12 categories are entered in a given year, so BLACKOUT had some stiff competition, among them names like J.D. Robb (aka Nora Roberts), Patricia Potter, Allison Brennan, Cindy Gerard, Jo Leigh, Linda Lael Miller, Kathleen O'Brien, and Elizabeth Thornton. Wonderful writers all. As my friend, the fabulous RITA-winning Beth Pattillo says, I was "walking in high cotton!" Frankly, I was honored just to among the nominees. But to win!!!
Here's a post-win photo of me and my 12-lb. baby, as my daughter Becca has dubbed my RITA. (I'm the one smiling like a fool...):
Check out all the RITA finalists and winners.
I was also proud as punch when my friend and critique partner, Trish Milburn,won the Golden Heart for unpublished authors for her Young Adult manuscript, COVEN. What a night!
For those of you who write, may you all have such a heady experience. And for those of you who read, may there always be great books to feed your imagination.
Annie Solomon
http://anniesolomon.net
Newsletter Archive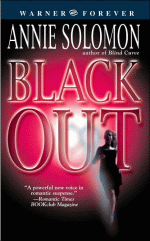 April 2006
ISBN: 0446616311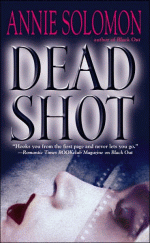 March 2007
ISBN: 044661632X