Hope everyone had a wonderful Thanksgiving, ate too much, and enjoyed it. I know I did. Last year, we went to Gatlinburg in the Smoky Mountains and had a great time, but this year we stayed home. I admit to not being in a rush to cook, but I dutifully took my position at the stove, and aside from a couple of slips (do you yell at your husband when youíre cooking for a crowd or am I the only one?) it all turned out fine... And tasted pretty good, too.
Now, the holiday season has taken off, and as promised, my humble gift to you is an excerpt from my upcoming February release, BLIND CURVE. Youíll find it on my website: http://www.anniesolomon.net/blindcurve.html
While youíre there, donít forget to sign up for my contest--you could be one of the first to read what comes AFTER the excerpt ends!
Hope youíre all looking forward to a happy, peaceful, fun-filled holiday season, with little or no husband/child/mother yelling, and lots of other peopleís cooking.
Annie Solomon
http://anniesolomon.net
Newsletter Archive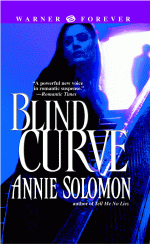 Pre-Order - Barnes & Noble
Pre-Order - Amazon.com