Hi, everyone!
Hope your summer is going smashingly. Mine is full of exciting things, not the least of them my new Facebook Author page. I hope you'll come on over, "like" me, and join the conversation.
If you haven't heard yet, my upcoming romantic suspense is Two Lethal Lies. The story is a roller-coaster ride about a man with a secret so lethal, its discovery could put everything and everyone he loves in the crosshairs of a maniacal killer. I did a lot of fun research for the book, which I'll soon be sharing on my website. Two Lethal Lies is not due on shelves until October, but you can preorder it online now. Just click on one of the links to the right.
Besides working on my next book, this summer I decided to learn how to crochet a beaded necklace. Here are two I'm proud of:
And finally, what summer is complete without the grill? Here's a simple and delicious sauce I discovered. Try it over grilled meats or vegetables:
Garlic Lime Vinaigrette
1/4 cup fresh lime juice

1 garlic clove, minced

1/4 teaspoon dried hot red-pepper flakes

1/3 cup olive oil

2 tablespoons chopped fresh cilantro
Enjoy, and happy reading!

http://anniesolomon.com
Newsletter Archive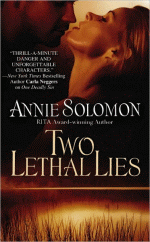 Coming Sep 28th
ISBN-10: 0446178454
ISBN-13: 978-0446178457